For years people have referred to me as an "Independent Musician". In one sense, that's true. I've always tried to produce fresh, thought provoking, soul-sharpening music without pandering to the masses. This approach hasn't always been financially rewarding, but it's allowed me to stay true to myself. And it's what my fans have come to expect from me.

But in reality, I'm not an "Independent Musician" at all. Far from it. Although I've never enjoyed the support of a record label, I have enjoyed the support of thousands of fans who've attended concerts, hosted shows, purchased albums, filled my car with gas, and supported my recording projects. If you're reading this, it's probably because somewhere along the way, you've been one of those people.

As you know, the music industry has undergone a massive change in recent years and has left many artists scrambling to figure out how to navigate the new reality. What is clear is that artists can no longer make even a modest living solely off of album and ticket sales. This has forced artists to either quit or imagine a new model altogether. For many artists, creating a community of support has become that model.

Here's how it works. Fans join an artist's "community of support" by signing up for a subscription. This subscription gives you immediate access to all the music I've ever released and all that I ever will. It also gives you a bit of a window into my world. Community members get perks like demos, tickets to concerts, a discount on merch, early access to new music, video content, and other exclusive content! It's also a tangible way for true fans to support my work by providing a little bit of steady monthly income which keeps me making the music you love.

Currently, there are 3 different Tiers for support, each with their own unique rewards. Choose whichever level suits you best. Also, be sure to download the Bandcamp App for your mobile device to receive notifications and new material the moment it becomes available.

Thank you so much for your ongoing support! I've never been able to make music alone. And now, I'll never have to!

Keith


Here's what you get:
All the new music I make

streaming instantly on your mobile device via the free Bandcamp app, and also available as a high-quality download.*

Access to subscriber-exclusive messages:

These back-catalog releases:
A 10% discount on all my merchandise.
The satisfaction of knowing you're supporting me in a sustainable way.
Join:
For $5/month, you get everything above.

You're a subscriber

Thank you!

For $10/month, you get everything above, plus:

Supporters at this level receive an autographed "Hard Copy" of all new releases, admission for 2 to any Keith Kitchen concert in their area. Admission is limited to 2 people, but there is no limit to the number of concerts you can attend. All you need to do is contact Keith Kitchen Music 1week prior to reserve your admission. This is just Keith's way of saying, "Thank You!".

You're a subscriber

Thank you!

For $100/month, you get everything above, plus:

Supporters at this level will receive one free solo concert in Canada per year. This could be either a house concert or a concert in another venue of your choosing (church, etc.). This is a great way to share Keith's music & ministry with your community. You could even use this concert as a fundraiser for another ministry that's close to your heart. Just be sure to consult with Keith regarding availability and the suitability of the venue.

You're a subscriber

Thank you!
* Downloads are DRM-free and available in MP3, FLAC and
more
.
Keith Kitchen
Cochrane, Alberta
Latest Release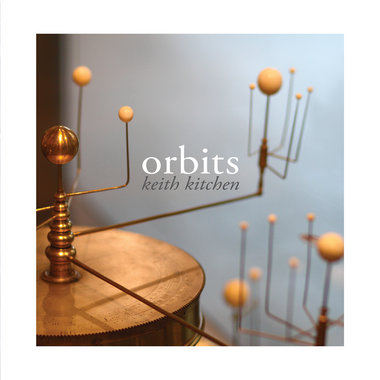 Orbits